When it comes to decorating for special occasions, the popularity of bubble balloons has been on the rise, and for good reason! These unique and versatile decorations have taken the party scene by storm, bringing a touch of elegance and whimsy to celebrations of all kinds. In this article, we'll delve into the world of bubble balloons, exploring what makes them unique and how they can elevate the ambiance of any event.
What Are Bubble Balloons?
Bubble balloons, often called "balloon-in-a-balloon," are a modern twist on traditional latex or foil balloons. Their innovative design sets them apart, featuring a transparent outer layer with an inner balloon nestled within. This distinctive structure allows for a 3D effect that gives bubble balloons their name. Available in various sizes, shapes, and themes, these balloons present an excellent option for occasions ranging from birthdays and weddings to corporate gatherings and holidays.
The Allure of Bubble Balloons
Versatility: One of the critical advantages of bubble balloons is their adaptability. Whether you're organizing a sophisticated wedding reception or a vibrant children's party, bubble balloons can be tailored to match any theme or color palette. They are available in various designs, including confetti-filled, patterned, and even personalized options, ensuring a perfect fit for your event..
Durability: Bubble balloons are made from high-quality materials that are more durable than traditional balloons. It means they are less likely to deflate or burst, allowing you to enjoy their beauty throughout the event and beyond.
Visual Impact: The 3D effect created by the transparent outer layer of bubble balloons adds a visually captivating element to any space. The inner balloon appears suspended, giving the illusion of floating decorations that effortlessly catch the eye.
Longevity: Unlike helium-filled balloons that tend to lose buoyancy quickly, bubble balloons filled with air can last for weeks, making them a cost-effective and sustainable choice for event planners and party-goers.
Types of Bubble Balloons
Crystal Clear Bubble Balloons
Crystal Clear balloons are non-allergenic balloons made of clear, stretchy plastic and can be inflated into a nearly round shape. These balloons, made from non-oxidizing material, are suitable for both indoor and outdoor decorations.
Whether you double-stuff them with a single latex balloon or add decorative accents, versatile Deco Bubbles add value and create a magical effect.
These Bubble balloons may have different filling – feathers, confetti, latex balloon, and foil balloon.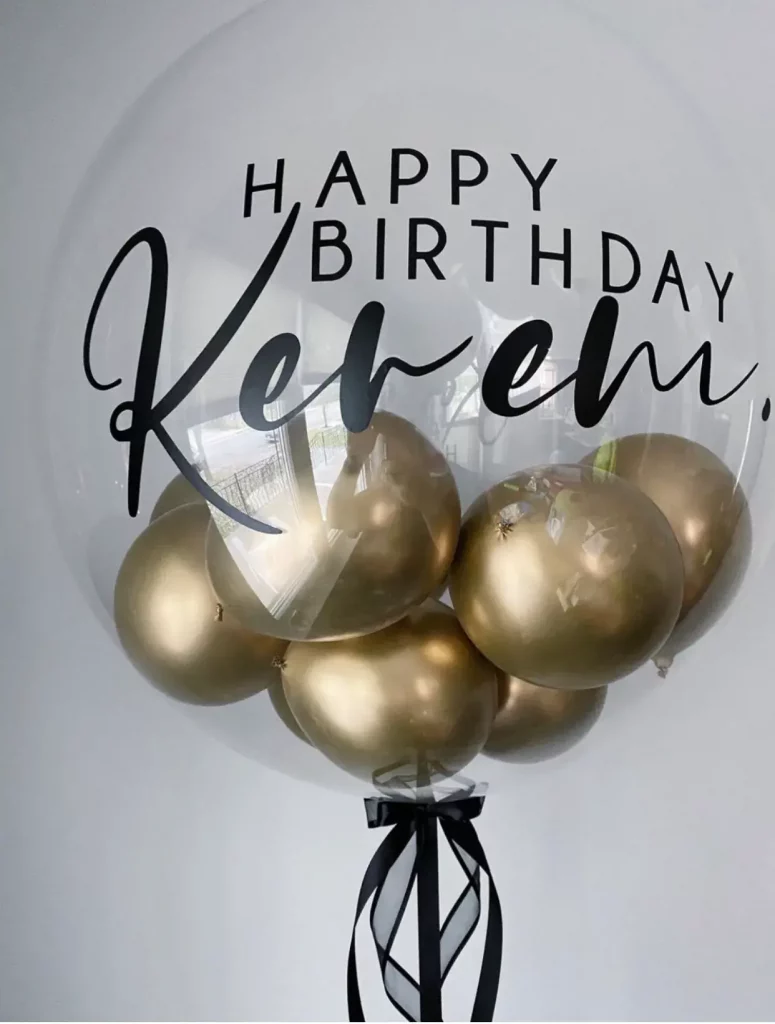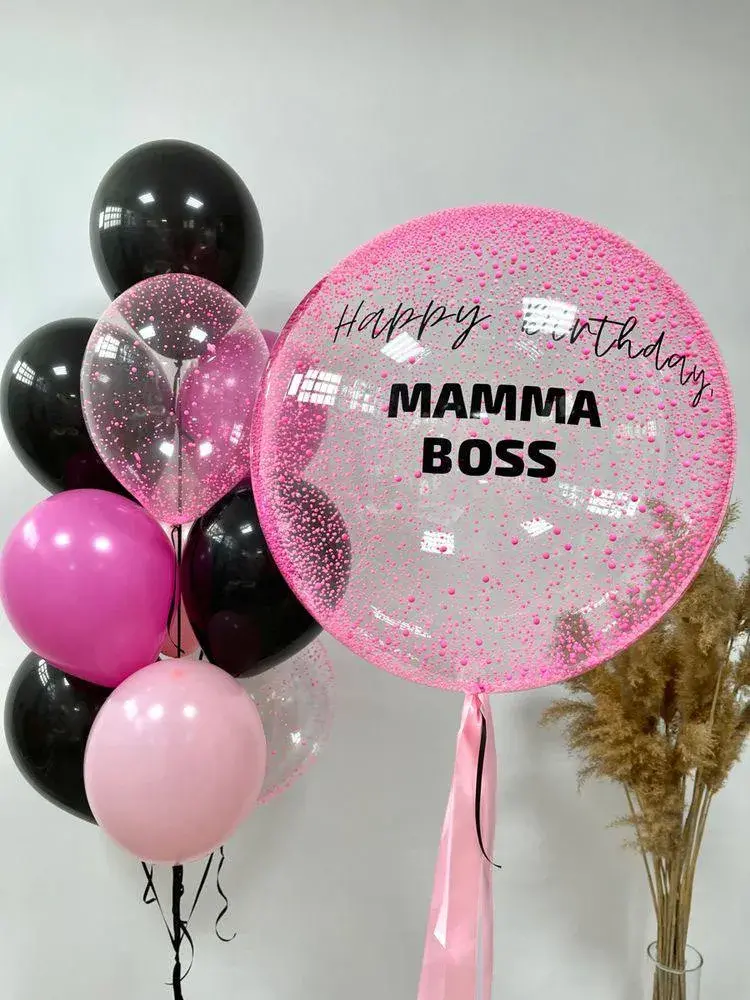 There are several manufacturers of Bubble balloons with their specific features.
Deco Bubble by Qualatex
The most long-lasting Bubble balloons.
They go in 2 sizes – 20" and 24" and do not have a self-sealing valve, so to seal these balloons, you will need 160 or 260 twisting balloons. Deco bubbles are flattened in shape.
An adequately inflated, helium-filled Deco Bubble Balloon will float for 20″: 7-10 Days, 24″: 3-5 Weeks.
Crystal Clearz™ Bubble balloons by Anagram
Anagram's Crystal Clearz™ balloons are made from translucent plastic, which makes them great for stuffing balloons. However, they are designed with a self-sealing valve and a long neck.
Cut the valve out to use the balloon for stuffing. Cut the valve out across the neck and remove the rest. You will need to seal these balloons using 160 or 260 twisting balloons.
You may also want to purchase Crystal Clearz™ with a 5-foot multi-color or white string of lights. The lights wrap around the neck of the balloon and then up and around the balloon. Leave enough light to tie it back to the balloon's neck and let it hang down. These lights require 2 AA batteries, which do not come in packaging. The battery pack can also be used as a weight.
Helium-filled balloons stay inflated for ten days or more regardless of the size they were inflated to. Make sure that if you are filling your balloon with helium, the balloon needs to be at least 18 inches. Crystal Clearz™ is only available in one size. However, they can be inflated up to 22 inches to different extents.
Crystal Clearz™ Bubbles go in several colors apart from crystal clear (Orange, Yellow, Green, Blue, Purple, Light Pink, Dark Pink).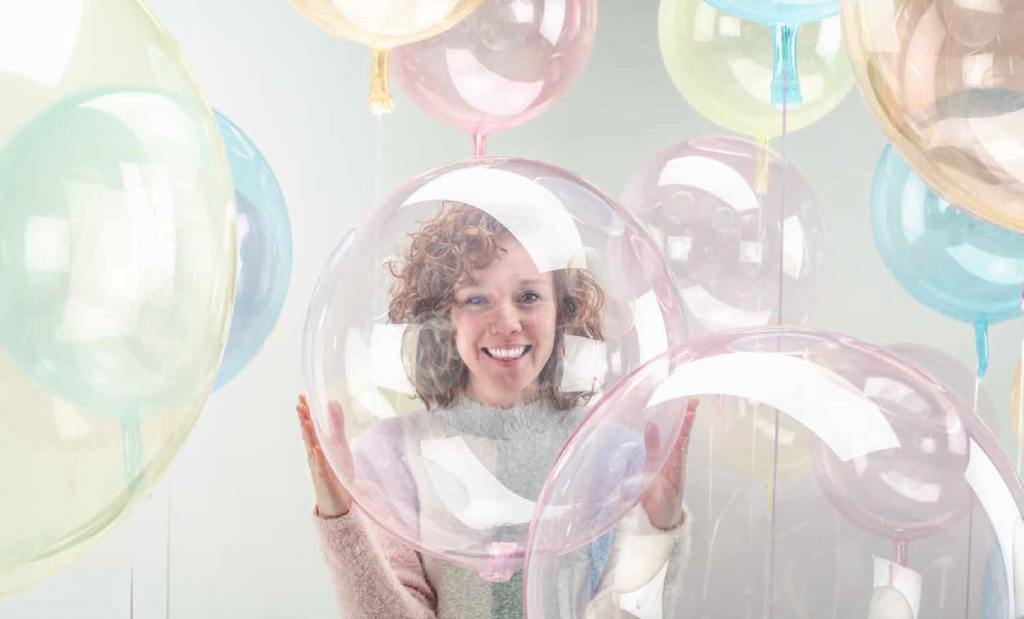 Aqua Bubble Balloons by Pioneer Balloon Company
Aqua Balloons, by Pioneer Balloon Company, are clear, transparent, spherical balloons that come in four different sizes; and come equipped with pink protective covers. Once the balloon begins to be inflated, the pink covers will gradually release.
Aqua Balloons can be inflated with air or helium (follow instructions) but do not have valves, so they require sealing. Balloons can be heat sealed, tied with a 260Q balloon or ribbon, or twisted and tied in a knot.
Aqua Balloons can be double stuffed. The instructions suggest cutting a straight line off the top of the balloon while leaving the protective cover on. Fill the balloon with the desired object (e.g., confetti), and then heat seals the top. Now inflate the Aqua Balloon with air as the pink covering releases itself.
Float times for Aqua Balloons are comparable to latex balloons but vary from 1 to 7 days, depending on the ballon size. The smaller balloons will likely float for a shorter period than the larger ones. Bubble Balloons last longer than Aqua Balloons, which only last for a few days.
Do not use HI-FLOAT with Aqua Balloons because it will lose clarity.
BOBO bubble balloons
The sizes are 8", 10", 12", 18", 20", 24", and 36", although the most common are 18, 24, and 36. sizes smaller than 18′ are air-filled only.
Bobo bubbles fully inflated are perfectly round. Usually sold in a pack of 10 pcs pre-stretched. If they have yet to be pre-stretched, you'll need to manually stretch them to achieve a perfectly round shape.
Incorporating Bubble Balloons Into Your Event
Centerpieces: Create stunning table centerpieces by placing bubble balloons in various heights and sizes. Incorporate LED lights for an enchanting glow during evening events.
Backdrop: Design an impressive backdrop for photo booths or stages using an arrangement of bubble balloons. Their 3D effect adds depth and texture to photos, making them perfect for capturing memories.
Themed Decor: Whether it's a fairy-tale princess party or a tropical luau, bubble balloons can be customized to match your chosen theme, elevating the overall decor and ambiance.
Gifts and Favors: Make your gift-giving memorable by enclosing small presents, treats, or confetti within bubble balloons. They add an element of surprise and excitement that recipients will adore.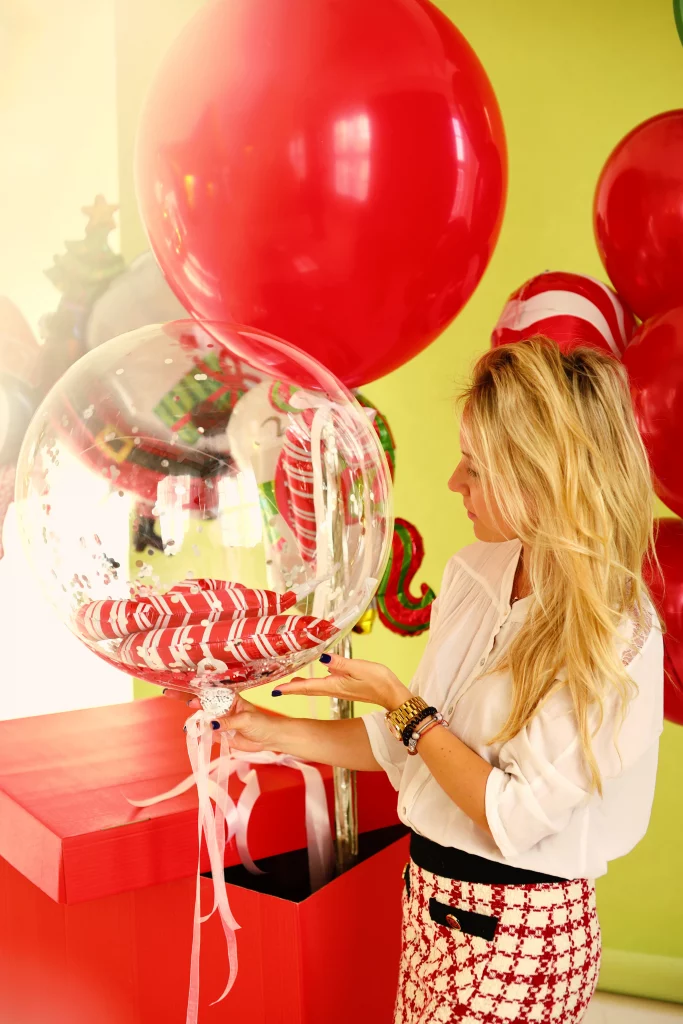 Bubble balloons have revolutionized the world of event decorations with their unique design, versatility, and visual appeal. Whether it's a wedding, a birthday, a corporate event, or a holiday festivity, these delightful balloons infuse any celebration with a blend of sophistication and playfulness. With their durability, customization options, and ability to stand out, bubble balloons are here to stay as a captivating and eye-catching decor choice for events of all kinds. Make your next celebration truly special by incorporating the enchanting allure of bubble balloons.