A "Bride to Be" party is a celebration held in honor of a woman who is about to get married. This event is typically hosted by the bride's close friends or family members and is a way to celebrate her upcoming nuptials. It can be a bridal shower, bachelorette party, or any other pre-wedding gathering.
Bride to be balloons are festive accessories used for celebrating a woman's upcoming wedding. They are typically used for bridal showers, bachelorette parties, or other pre-wedding celebrations. These balloons come in various sizes, shapes, colors, and designs that often include the phrase "Bride to Be". They can be filled with either air or helium depending on the desired effect.

Types:
1. Foil Balloons: These have a shiny metallic finish and are often used for letter or number shaped balloons.
2. Latex Balloons: Traditional type of balloon, they are available in a wide range of colors.
3. Confetti Balloons: Clear latex balloons filled with confetti for a fun and festive look.
4. Giant Balloons: Large balloons that make a big statement, often used for photo props.
5. LED Balloons: These balloons light up, adding a unique touch to evening events.
6. Helium Balloons: These float in the air and can be tied to weights or let loose to float to the ceiling.
Decorating a "Bride to Be" party involves creating a festive and joyful atmosphere that reflects the bride's personality and wedding theme. Here are some ideas:
1. Letter Balloons: These spell out "Bride to Be" and can be strung together to create a banner.

2. Heart-Shaped Balloons: These symbolize love and can be plain or printed with the words "Bride to Be".

3. Ring-Shaped Balloons: Representing the engagement ring, these are a fun choice for a bridal shower or bachelorette party.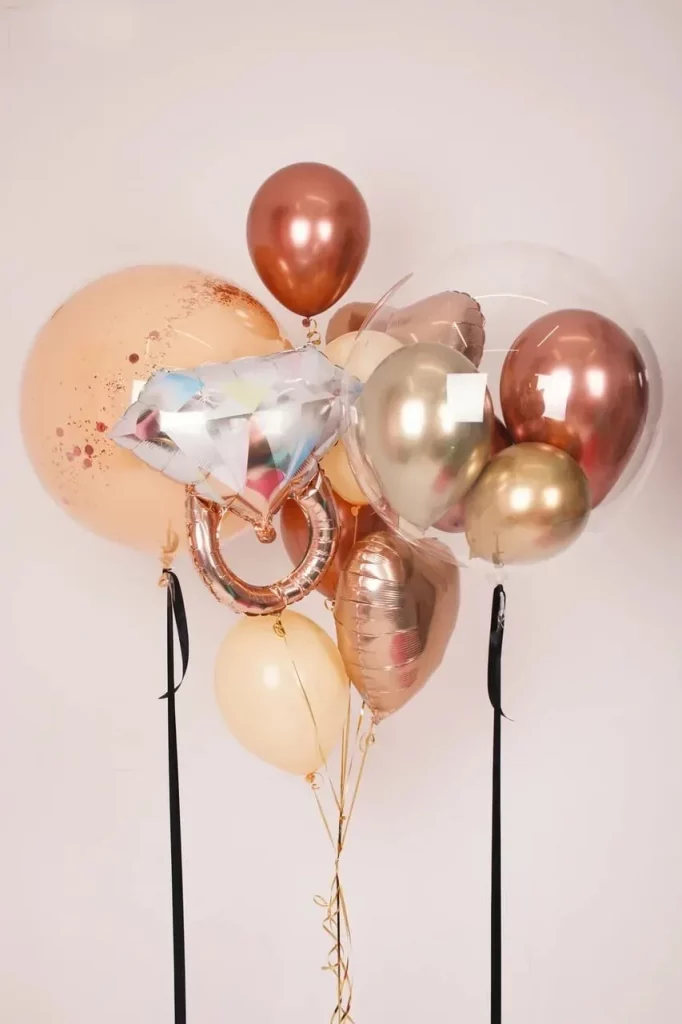 4. Custom Printed Balloons: These have the bride's name or other personalized message printed on them.

Ideas:
1. Create a balloon arch or garland for the entrance or as a backdrop for photos.
2. Use "Bride to Be" letter balloons as a centerpiece for the main table.
3. Release helium-filled balloons into the sky as a symbolic gesture during the celebration.
4. Use LED balloons to light up the party venue for a night-time event.
5. Fill confetti balloons with the bride's wedding colors for a personalized touch.
6. Combine different types and styles of balloons for a diverse and visually pleasing balloon bouquet or arrangement.