When setting the stage for an unforgettable celebration, few elements can match the charm and versatility of balloon bouquets. These whimsical arrangements of balloons can infuse any event with a burst of color, joy, and festivity. Whether you're gearing up for a birthday bash, commemorating an anniversary, or hosting a baby shower, the artful arrangement of balloons can add that extra spark to your special occasion. In this comprehensive guide, we'll delve into a captivating array of creative and unique balloon bouquet ideas that promise to leave a lasting impression on your guests and create cherished memories. Let's explore options, from themed bouquets to elegant compositions, each tailored to bring your vision to life.
Themed Extravaganza Balloon Bouquets
When you envision a celebration that exudes a specific theme, themed balloon bouquets are your ticket to an immersive experience. Transform your venue into enchantment by selecting a theme that resonates with the occasion – a fairytale wonderland, a retro disco night, or an exotic tropical paradise. The magic lies in carefully selecting balloon colors, sizes, and shapes harmonize with your chosen theme. Integrate thematic props and cutouts for an extra layer of charm, making your bouquet visually represent your determined universe.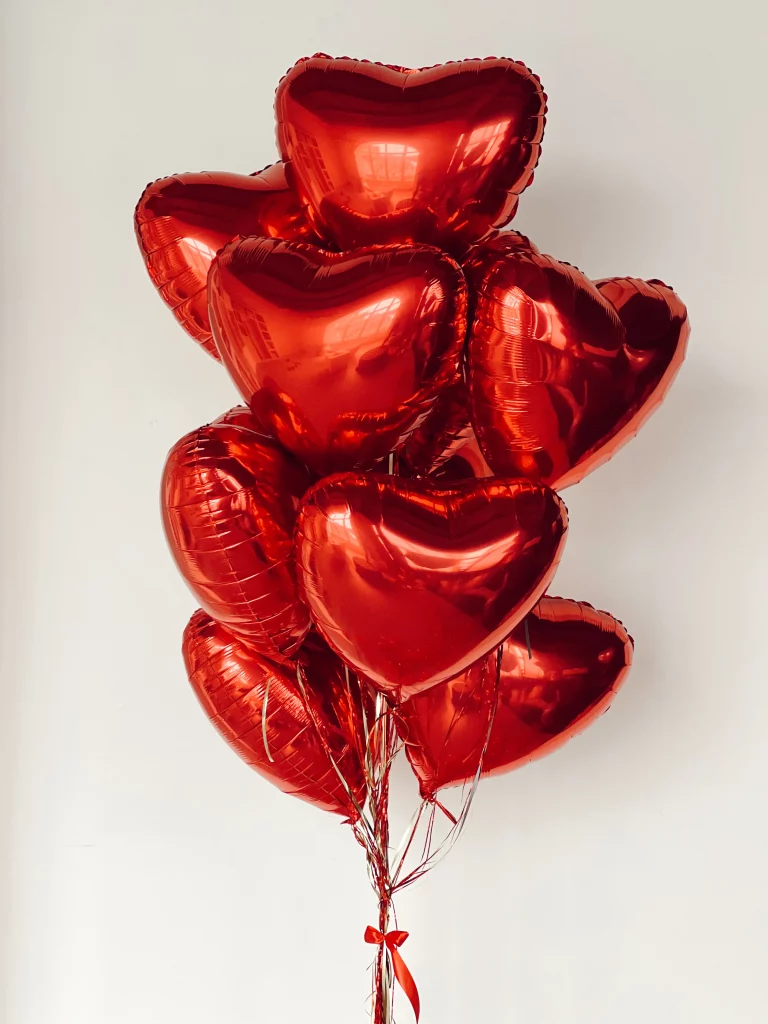 Number and Letter Balloon Bouquets
Marking milestones with style is a hallmark of memorable celebrations. Whether it's a significant birthday, a cherished anniversary, or a triumphant graduation, number and letter balloon bouquets bring a personalized touch to the festivities. Craft a message that speaks volumes by assembling giant numeral and alphabet balloons. The grandeur of metallic finishes, the vibrancy of colors, or even the whimsy of confetti-filled balloons can punctuate your expression of celebration.
Organic Balloon Bouquets
For those who crave an effortlessly elegant look, organic balloon bouquets beckon with their casual yet refined aesthetic. Embrace the beauty of asymmetry by blending balloons of varying sizes, creating a sense of depth and dimension. Your color palette is pivotal – pastels for a serene affair, bold hues for a lively event. This arrangement style lends itself to many occasions, from chic weddings to relaxed garden parties.
Photo-Filled Balloon Bouquets
Uniquely celebrate picture-perfect memories by letting photo-filled balloon bouquets take the spotlight. Infuse nostalgia and warmth into your event by attaching small, meaningful photographs to the strings of balloons. This personal touch sparks conversations and elicits fond memories among your guests. Whether it's a journey through childhood milestones for a significant birthday or a visual timeline of a couple's trip for an anniversary, this thoughtful addition elevates your decorations to cherished keepsakes.
Giant Confetti Balloon Bouquets
Embrace the allure of enchantment with giant confetti-filled balloon bouquets that promise an immersive experience. Oversized balloons brimming with swirling confetti create a captivating play of light and color, casting a spell on your guests. The confetti's shimmering dance lends an ethereal quality to your celebration, transforming your space into a dreamlike realm. Select confetti hues that resonate with your event's color scheme, and watch as these balloons become dynamic focal points and backdrops for stunning photographs.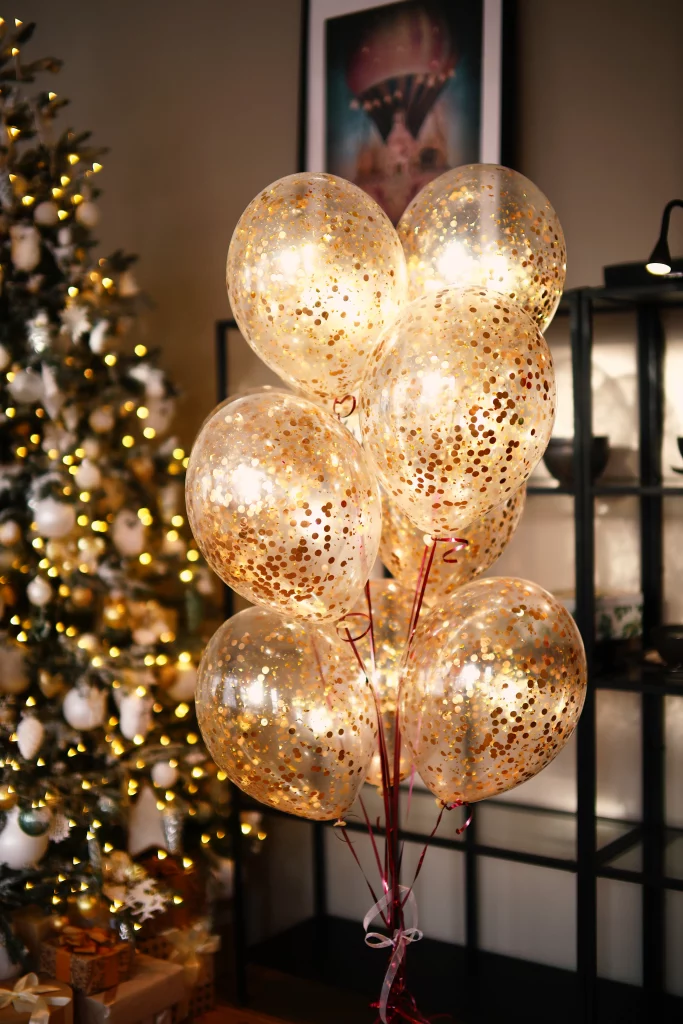 Balloon Flower Bouquets
Balloon flower bouquets provide a delightful fusion of balloons and blooms for occasions that call for romance and elegance. Craft intricate balloon petals and leaves to form enchanting balloon flowers. Choose classic floral shades such as romantic reds, delicate pinks, pristine whites, or unconventional and vibrant colors for a contemporary twist. These intricate arrangements lend themselves beautifully to weddings, bridal showers, and any event that seeks to capture the essence of love and beauty.
Interactive Balloon Bouquets
Interactive balloon bouquets add an element of fun and surprise to your celebration. Incorporate balloons with LED lights that glow in the dark or balloons that change color when touched. Alternatively, fill some balloons with small treats or messages that guests can pop to retrieve. It adds a dynamic element to your event and keeps guests engaged and entertained.
Balloons with Messages
Balloons with messages are a great way to communicate sentiments to your guests or the guest of honor. Write personalized messages, quotes, or wishes on the balloons or attach small notes to the strings. It will serve as a decoration and a meaningful gesture that your guests will appreciate.
Balloon and Ribbon Bouquets
Combine balloons with different types and colors of ribbons for an elegant and sophisticated look. Use satin, lace, or organza ribbons to add texture and variety to your bouquet. Combine with metallic or pearlized balloons for an added touch of glamour.
Balloon and Paper Flower Bouquets
Combine balloons with paper flowers for a unique and creative decoration. Create paper flowers in colors that match or contrast with your balloons, and attach them to the balloon strings or directly onto the balloons. It will add an artistic and handcrafted touch to your celebration.
Balloon and Tassel
Bouquets Tassels add a festive and playful touch to balloon bouquets. Attach tassels of different colors and lengths to the balloon strings or directly onto the balloons. Combine with confetti-filled balloons or metallic balloons for a more vibrant look.
Character Balloon Bouquets
Character balloon bouquets are a hit for children's parties or themed events. Select balloons with images of popular characters from movies, cartoons, or books. Combine with solid-colored balloons that match the theme for a complete look.
Balloon and Fabric Flower Bouquets
For a more durable and elegant option, combine balloons with fabric flowers. Use silk, satin, or velvet flowers and attach them to the balloon strings or directly onto the balloons. It creates a luxurious and lasting decoration you can keep after the event.
Custom Printed Balloon Bouquets
Custom printed balloons let you personalize your balloon bouquet with names, dates, or logos. It is an excellent option for corporate events, weddings, or any occasion where you want to add a personal touch to your decorations.
Within the realm of event decoration, balloon bouquet ideas stand as blank canvases, awaiting the touch of your distinct imagination for adornment. These diverse and creative concepts provide the foundation for crafting moments that transcend the ordinary and become cherished memories. From thematically immersive extravaganzas to the elegance of balloon flowers, your bouquet style sets the tone for an unforgettable celebration. Don't shy away from experimenting with balloon types, colors, and arrangements – they offer endless possibilities for customization. So, let your creativity take flight, and elevate your upcoming celebrations to a whole new level with these distinctive and captivating balloon bouquet ideas.
Feel free to explore additional balloon decorating ideas.